Be sure to review the previous Mini-Series installments here:
1. How to Choose a Business Entity
2. Can a 50/50 Partnership Work?
6. How to Hire Your Team Legally
One of the most important assets of your business is your intellectual property ("IP"), or your unique creations, designs, and ideas. Some common examples of company IP are your brand name, logo, unique products and processes, and unique works of authorship. Once you have begun using your IP in commerce, you are afforded a limited amount of protection under U.S. "common law", meaning that there are some implied protections under the law. However, these automatic common law protections are difficult to enforce, and it may be impossible for you to prove that you came up with the unique IP first. Therefore, although you are not required to register your IP, it may be worth your time and effort to do so in order to create an official record of your claim to ownership.
Here's some basic information to get started: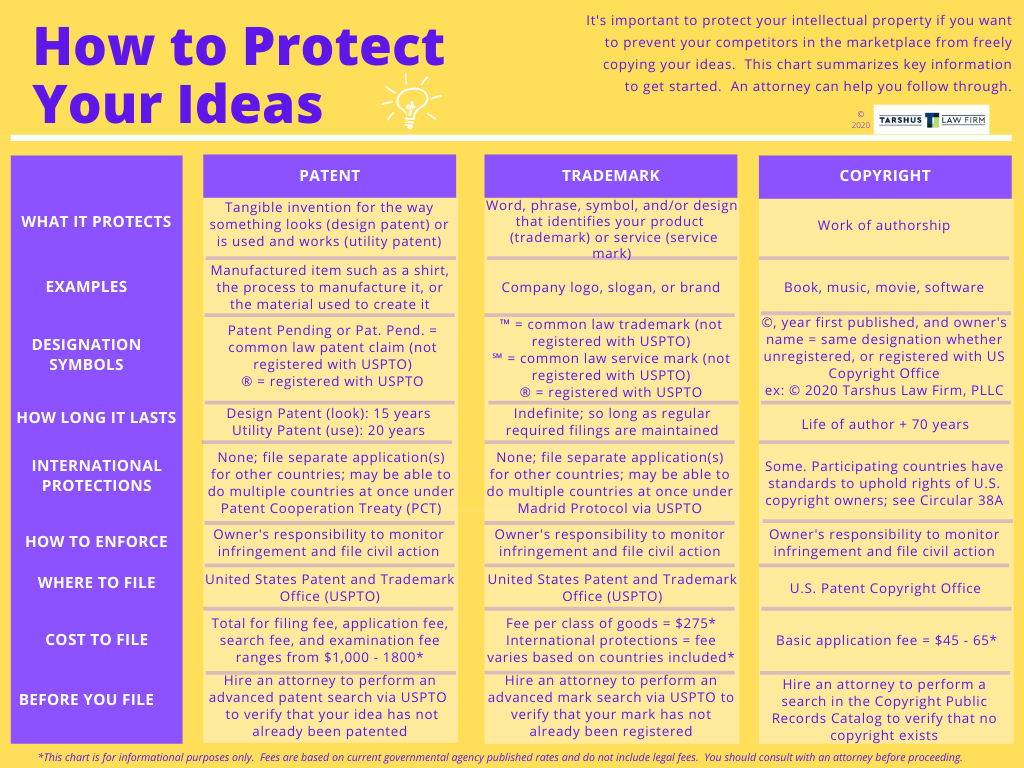 Ready to file your patent, trademark, service mark, or copyright? Consider engaging the services of an attorney to verify that your IP has not already been registered, and to ensure that your application and supporting documents are complete and satisfy requirements. An attorney can also handle inquiries from the reviewing attorney assigned to your case, facilitate additional documentation requests and draft arguments and responses to support your position, and advise you of ongoing registration requirements. Some attorneys offer quick turnarounds and flat fees for this service.
Andrea A. Tarshus, Esq. founded Tarshus Law Firm in 2015 to provide efficient, accessible, and fair General Counsel legal services to businesses and business owners.Tarshus Law Firm represents Western New York and Buffalo based businesses as well as large international and publicly traded corporations in industries such as: audio video ("AV"), products distribution, transportation and logistics, medical marijuana, marketing, social media, healthcare, and other sectors.
Andrea's engagement with businesses regularly includes business formation, negotiating and executing favorable contracts, legal research and writing, project management, administering internal legal and operational controls, problem-solving, and strategizing.She enjoys working with business owners, C-suite executives, and company managers to create a comprehensive legal and business framework that supports operational efficiencies and strategies for growth.
This article is intended to be informational in nature, should not be relied upon by the reader without consultation with an attorney, and does not create an attorney-client relationship between the author and reader.
Contact:
Offices in Grand Island, New York