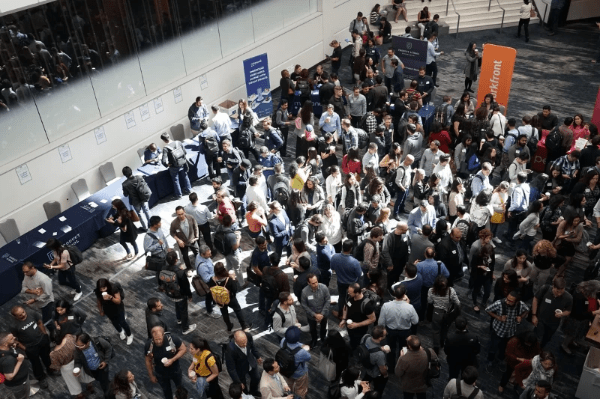 So you just got back from an industry conference. You rode the wave for days, got pumped up and excited about your surefire path to success and riches, and now reality has set in and you're back at your desk feeling exhausted and overwhelmed. With your head full of new ideas, people's names, key takeaways, motivational phrases, and also a rising mountain of unanswered emails, it can be tempting to start chipping away at everything that piled up while you were out of the office, and put your conference experience on the back burner. Don't be that chump! Here are 6 quick things you can do to keep up momentum and come out ahead of the other attendees:
Stop Surfing the Web (You're Reading this Article, so Busted!), and Use That Time to Follow Up:  Send an email, LinkedIn request with a message, or text to everyone you bumped elbows with, from the little fish to the hotshots.  You never know who will be valuable in building your success story.  Be specific and make a comment that will trigger their memory of who you are and why they want to know you.
Hash Out an Action Plan:  What are your top takeaways you can implement now to make your business better?  Bullet out the 5-10 ideas you have for efficiency, growth, and improvement and share them with your team.
Request a Meeting:  Get a concrete time on your calendar to talk further with the 3-5 people who really sparked your interest.  Whether they were the security guard, or keynote speaker, you will never get the chance to talk with them if you don't ask!  Follow up with them and tell them why meeting with you will be a valuable use of their time.  They will be more likely to accept your invitation if there is something in it for them.
Assemble a Taskforce:  It's easy to fall into familiar routines, but a taskforce assigned to rolling out new strategies or action plans will ensure you stay on top of change.
Research Your Interests:  Surely you learned something new that piqued your interest.  Buy a book, read a blog, or attend a seminar that focuses more on that specific topic so you continue your exploration and determine how that translates to additional opportunities for you and your business.
Sign an NDA:  Don't share anything of value with your new contacts before signing a confidentiality agreement, or non-disclosure agreement (NDA).  You'll want to make sure your information, intellectual property, and all discussions and communications are adequately secured.  Be sure to ask your attorney to review any documents you are asked to sign.
Andrea A. Tarshus, Esq. began Tarshus Law Firm @Tarshuslaw.com in 2015 to fill a void in the legal ecosystem: efficient, accessible, and fair in-house and General Counsel legal services for business owners. Her engagements regularly include business legal startup paperwork, negotiating and executing contracts, administering internal legal and operational controls, and creating legal documents that protect the company's best interests.
This article is intended to be informational in nature, should not be relied upon by the reader without consultation with an attorney, and does not create an attorney-client relationship between the author and reader.